Skills and Drills Football Training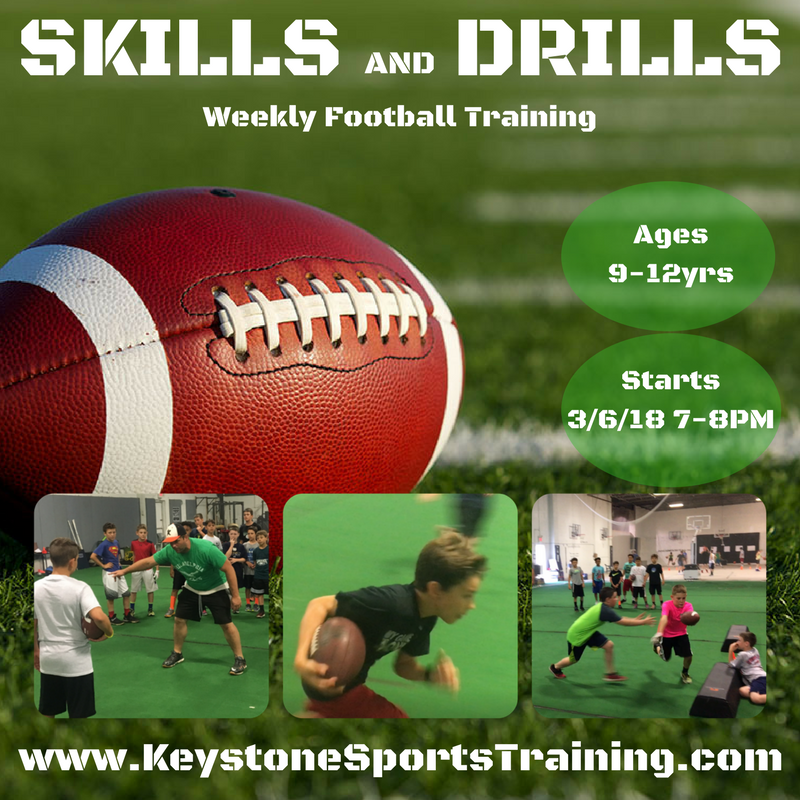 WHO: All athletes ages 9-12yrs
WHERE: Keystone Sports Training 307 Swartley Rd Hatfield PA
WHEN: Tuesdays 7pm-8pm Starting 3/6/18 (8 Weeks Ending 4/24/18)
HOW: $100 per athlete. FREE T Shirt, Registration Link Below
*** LIMITED REGISTRATION THIS YEAR- WE ARE ONLY TAKING THE FIRST 25 REGISTERED***
Skill Player Focus – Ball Security, Reading Blocks, Hand Eye Coordination, Catching, Routes
OL / DL Focus – Footwork, Hand Placement, Stance, Quick Feet, Drive Block Technique, DL Shedding Blocks
Come out to compete, have fun, and learn at the Keystone Sports Training SKILLS AND DRILLS FOOTBALL CAMP. Campers will be divided into positional groups for sessions and also compete in small groups during concept work. The camp will also have other competitive and team building activities.
Coaches
---
1 on 1 and Small Group Training for QBs WRs and OL/DL
QB Training Points (Click For More Info)
– Upper Body Mechanics
– Lower Body Mechanics
– Various Drops (3,5,PA, rollout)
– Reading Coverages
– Pocket Mobility
WR Training Points
– Speed
– Hand Eye Coordination
– Reaction Time
– Balance / Agility / Footwork
– Reading Coverages
Linemen Training Points OL/DL (Click For More Info)
– Stance and start
– Splits and alignment
– Firing off on the ball
– Hand placement
– Physical ddevelopment
REGISTER BY EMAILING: keystonesportstraining@gmail.com
OR BY CALLING: 215-313-2453

---
SUMMER Skills and Drills Football Camp 2018





The Keystone Skills and Drills football camp is the best football training in the area. This is a great summer football training camp to keep your young athlete in shape and focused on developing their skills. The coaches will cover a wide variety of concepts and skills for a well rounded football practice every day. All of the coaches working this camp are former college players.
Register Now
WHAT: Summer Football camp. $120 Per Athlete
WHO: Ages 9-14yrs
WHERE: Keystone Sports Training – 307 Swartley Rd, Hatfield, PA 19440

WHEN: Dates to be determined for 2018.

WHY: To get better, have fun, and stay in shape.

Coaches
Questions? keystonesportstraining@gmail.com 215-313-2453
---
---