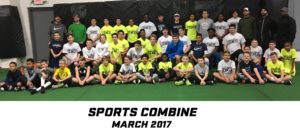 Summer Combine
Experienced combine athletes, come out and see how your results compare to the last combine!
Athletes participating for the first time, come out and see how you do against other local athletes in your age group!
WHO: All athletes from any sports background.
Group A 16-18 yrs old
Group B 13-15 yrs old
Group C 10-12 yrs old
WHAT: Testing in the 40 yard dash, pro agility, vertical jump, and broad jump.
WHERE: Keystone Sports Training
307 Swartley Rd in Hatfield PA
WHEN: Saturday June 3rd 9AM-10:30AM (Please arrive no later then 9AM!)
REGISTRATION: $25 per athlete cash or check payable on the day of the event.
Click the link below.
AWARDS
1st place for each division will receive a trophy, additional T shirt, and a free 1hr training session.
OTHER
***All participants receive a FREE T SHIRT
*** Please wear sneakers, no cleats
---
Past Results …